About Us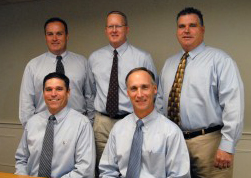 Owned by brothers Peter, John, David and Robert Maher, Maher Services combines a proven track record of exemplary customer service with decades of water resource experience.  The brothers owned the former D.L. Maher Co., which was  founded by their grandfather Denis L. Maher in 1941.  In 2002 they sold D.L. Maher Co.  to Boart Longyear, but after 6 years in management positions for Boart Longyear, the Mahers saw the need to better serve New England's water industry.  Returning to their entrepreneurial roots,  the brothers founded Maher Services in 2008.  Together with long time associate, geologist Reidar Bomengen, the Maher team is one of New England's most experienced drilling, pump and well services companies.
The Maher Services Management Team
The Maher team has a deep, extensive knowledge of the industry and marketplace. They are dedicated to providing the highest level of service through cost-effective solutions and timely performance.
Peter Maher, President
Robert J. Maher, Treasurer
David L. Maher, Vice President

John E. Maher, Vice President, Service Division
Reidar Bomengen, Vice President, Drilling Services